WORDS BY LUCAS ARSENAULT AND EVAN NETSCH PHOTOS BY NIK GANDERTON AND JUSTIN BRUNS 
Every fall hundreds of kiteboarders migrate to the well-known windy paradise of Brazil. Evan Netsch and Lucas Arsenault usually meet up at this time of year somewhere within the state of Ceará. Brazil gets a lot of exposure and publicity. With wind all day and all night for weeks on end. It is so consistent pro riders can actually lose motivation, they become picky, and even begin to lose appreciation for getting on the water. They take days off, maybe only kiting right at sunset to avoid the heat of the day. Three different kiteboarding events would coincide in the state of Ceará within a few weeks of each other. Both Evan and Lucas would go their own ways to attend two different events after a week spent in the small but very popular town of Taiba. This is their story.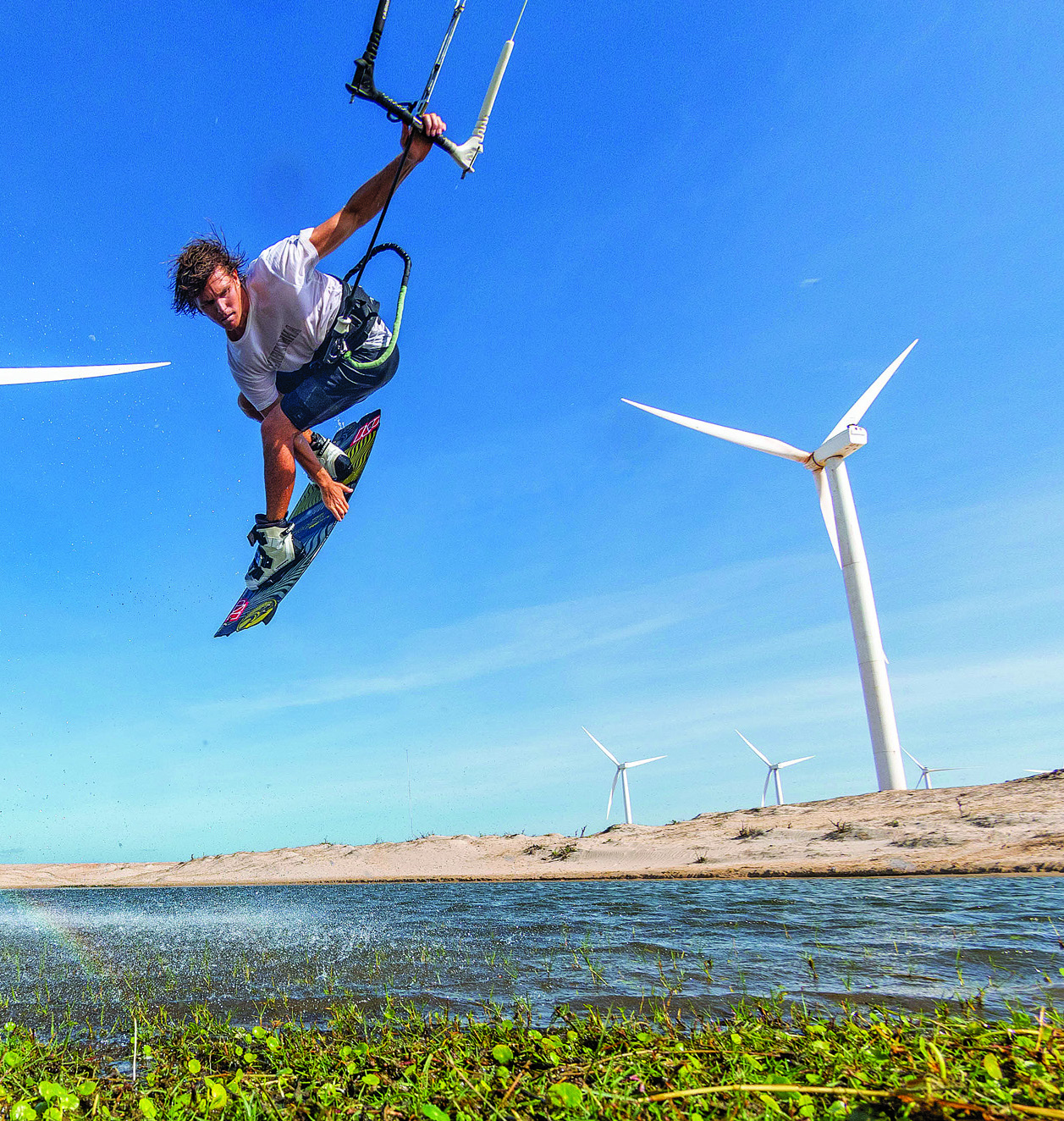 Taiba
Lucas Arsenault: Taiba is never home to any events, nor does it have that huge of a name as a destination but its popularity is growing as it sits next to the bustling town of Combuco only a short drive away. Home to some of the biggest lagoons and even decent swell and being just slightly off the beaten path, this fall we found some pretty insane crowds here. With the WKL freestyle event just weeks away in Combuco, the Kite Park League event in Icapui and the GKA Strapless event a couple hours north in Preá, there were riders from all three of these world tours training on the same small stretch of beach. We have both spent our fair share of time at this lagoon and with the growing crowds we decided it was time to do some exploring for the week we were in Taiba and break free from the chaos in the main lagoon. 
While much of the Brazil coastline may look desolate and beaten by the constant driving winds it is beautiful, raw and unique. Local fisherman rely on the constant wind to sail miles offshore in handmade boats that are little more than a wooden skeleton filled with plastic bottles and miscellaneous pieces of foam to keep afloat. Trees are sculpted by the blasting salt air dunes that go on for hundreds of kilometers and wind turbines provide the vast majority of power to the region. It is an area where humans and nature live in harmony as well as anywhere I have seen in the world. 
Over the years of visiting Brazil, we've both had some of the best sessions of our lives along different parts of the coast. Evan was extremely determined to recreate what he remembered being his, "best Brazil session," in the neighboring village of Pecem. Back five years ago, Evan and a few friends scored a dreamy session lining up perfect wave kickers in Pecem. He constantly talked about it and finally convinced me it would be worth checking out. This turned out to be one of the biggest missions of the trip. 
So late one afternoon we packed our things and set out for Pecem. There was swell in the water from a large Atlantic storm thousands of miles away and while the wave never really gets big at Pecem it lines up perfect and the spot looked amazing. The wind was blowing side off shore, directly downwind from the large shipping port. The tide was low and starting to rise as the kickers shaped up perfectly. Evan and Nik, who shot the majority of this feature, fully stoked, rushed out to the water and the wind quickly dropped and shifted just slightly more offshore really creating too much of a wind shadow for the spot. We only had a few hits each so decided to stick around in case the wind would come back, but it never did. We only had a short 30-minute beach buggy ride back home so just as the sun neared the horizon we finally decided to head back to town. 
For those who have driven a Brazilian buggy before, you'll know how difficult a salty windshield is to see out of when it's dark; it's nearly impossible to see three feet in front of the buggy. Brazil is amazing for beach driving. The roads are rough and bumpy and can be fairly indirect, so when you have the opportunity to ride a flat beach, you take it. On another note, if you are on the beach you likely have one of these sand buggies. They are literally the most unreliable vehicles. If you make it two weeks without issues, you're a hero. 
Surprisingly, returning from our unsuccessful Pecem adventure, we made it to Taiba safely. However, arriving near our apartment, it was necessary to take a wide turn to give ourselves room to climb the steep beach and hit the soft sand hill with a bit of speed. As I turned wide, the buggy sank like a rock in the wet sand. No chance that thing was moving. Even a light vehicle in wet sand is not a good combination. Better yet, it was dark and the tide was rising so every minute was crucial. Between four of us pushing, that buggy didn't move an inch. This was most definitely the worst feeling considering it was my credit card on the line for this buggy. 
A half hour went by and we tried countless methods but this buggy wasn't moving one bit. At this point, I took off on the streets looking for a truck, tractor, a pack of mules or anything with the potential of pulling our buggy out. As I left, the tide line was just touching the rear wheels. Using the Google translate app on my phone, I was able to communicate with local Brazilians and find a tractor. I was thrilled and shocked to say the least, as this must have been the first tractor I've ever seen in Brazil throughout the years. We quickly rushed back to the beach. As I arrived, our friends, Noé and Aaron, had shown up with a 4×4 truck and managed to pull out the buggy. At this point the little buggy was getting swamped by the shorebreak, the fiberglass body filled with water as high as the steering wheel. It took a few strong ropes and eventually they were able to pop it out of that wet, heavy sand. Moral of the story, don't drive your buggy near the tide line at night. Looking back, I highly regret not taking any photos during this event. However, I guess I had bigger issues to solve. Pretty clear why most of these things have finicky electronics and aren't known for their reliability. After calling the guy we rented from, he advised us just to get it regreased and it should be fine! Sure enough in the next week to come it was no worse for the wear.
Evan Netsch: This was our only trip to Pecem, while we never did get the amazing conditions that we reminisced about from a trip years before there were many other nearby spots we were keen to explore. While we were staying right next to the Taiba lagoon we made it a point every day to travel and ride a new unique place, even if it was not a better riding spot. Kiting in new locations always seems to inspire new ideas, and ultimately makes you a better rider. We explored a nearby spot called, "Secret Spot," which is not so secret as it was equally or more crowded as the lagoon. We stayed there for all of about five minutes before continuing on to Paracuru. Paracuru is a really cool riding spot and unlike a lot of Brazil we have seen. While it is no secret either, it has a nice outer reef and actually can have some decent waves. It reminds me a lot of Kite Beach in Caberete, D.R. It's a soft right hand wave, side onshore wind with a fairly large semi-flat inside section between the wave and the beach filled with everyone from local pros to kite schools giving lessons, giving it a fairly chaotic feeling. 
While Paracuru has a bit of something for everyone we decided to venture on, ending up at Cobra Lagoon. Cobra Lagoon is known for its expansive riding area, clean waters and lack of cattle dung along the shoreline…. or not. While this might hardly qualify as a good riding spot we had an amazing time. Our only visitor was a local security guard for the turbines who drove by, likely confused by what a couple gringos were doing in the puddle, then left to go about his day. The drafts coming off the wind turbines made for some interesting wind adding just a little extra challenge and we left with our kites poo-stained from crashing on the beach. We made sure to crash with our mouths closed and washed our ears out with alcohol after the sessions. But as miserable as that sounds it all came together and was pure fun. 
So after a week of goofing around in Taiba, while everyone was preparing for their events, it was time we parted ways. Lucas would be heading south to the Kite Park League event while I would be heading north to take part in the Global Kitesports Association Strapless Tour in Preá.
CHAPTER II: ICAPUI KITE MANSION OPEN
Lucas: As the news came out that the Kite Mansion was hosting a KPL event in Brazil, I knew this year was going be our best yet. Not only was a kite park formed in the glorious wind land, but also a new destination within Brazil is being discovered and put on the map. The Kite Mansion is located approximately three hours south of Fortaleza airport in a small town called Icapui. The usual routine is traveling north, and the further you go, the windier it gets. Turns out, the same effect happens when traveling south. 
The Kite Mansion is a luxurious pousada that provides service fit for royalty. It includes breakfast, an amazing restaurant, pool, ocean-front kiteboarding and much more. The kite park is found in a small river mouth just a few minutes down the beach from the Kite Mansion. A 4×4 is not required as the sand is hard-packed and easily accessible. The park consists of a few handrails and a perfectly constructed kicker. It's a tidal spot, so you cannot access the lagoon at the highest tides. It's important to speak with the locals and understand how to store the rails and safely use the park if you plan on making the journey out yourself. 
The Kite Mansion marks a new beginning within the world of kite parks. This was by far the most unique event format ever completed by the Kite Park League. The two biggest changes were handrail features instead of normal, wider plastic floating boxes, and the new 'line' format. Instead of being scored on one single feature on a scale based from 0-10, we lined up for two rails. As for the rails there is a big difference between a nice, wide, floating plastic box-style rail and a real metal handrail. Not only is a small round rail more challenging, it is not enclosed so if you fall on the upwind side, you run the risk of wrapping yourself around a metal leg. Not to mention, the salt takes its toll on metal quickly and just the rusty metal alone is much more intimidating. The goal is to complete a different move on each feature, maintaining a solid flow between each rail. Judging is based on the whole performance instead of just a single feature. The goal was to hit the first feature, land your manoeuvre, continue downwind remaining unhooked down the line, and perform another move on the following feature. The score was based on a 25 point scale: 10 points for the first feature, 5 points flow between features, and 10 points for the last feature. Each rider had four attempts and their best one counted. Along with this, your best kicker hit from both the left and right side is added to your score. It's a challenging event with a unique format and it's nice to see events breaking free from the standard formats. 
Just to be invited and part of this event is amazing. Kiteboarding is a small sport and while everyone is a competitor on the water, everyone is friends off the water. It really does give the push to everyone ultimately pushing the riding level of the sport as a whole. While I missed qualifying for the finals by just a few points I did have one of my personal best events and one of the best parts of events is the satisfaction of feeling your own riding progress.
CHAPTER III : PREÁ GKA CEARÁ KITE PRO
Evan: So while Lucas traveled south to find some new flatwater and light winder wind for the park event, I made my way about four hours north where the wind is a bit stronger to check in with Rancho do Kite and step back onto the world tour for the last stop of the season. After a string of small injuries the last pro event I did was the GKA stop in Morocco in the fall of 2016. While I have never had the skill or time to follow the full tour I have done a few events over the years and in the past have been very consistent in my finishes. Keeping an eye on the tour from a distance I knew the riding level had gone up a lot since my last event, which for me took the pressure off; I had no expectations to do well and was simply there for the sake of it and to enjoy the event. 
It had not been that long since I was last at Rancho do Kite. It is an iconic location within Brazil and the kiteboarding community and a top-end resort and kite school run by the unmistakable legend Mosquito and his wife Vanessa. The kite school is one of the largest, if not the single largest in the world, and the resort and kite school work in unison; both powered by the unrelenting wind that scours the long coastline of the entire state of Ceará. For most people around the world to be able to kite a few days a week after work or be lucky enough to actually have a windy day coincide with a weekend is a treat. For most of us wind is just not that reliable or forecastable. When it is good you better go, or else you miss it, as simple as that. 
But in Brazil things are different. There is no checking the forecast, or wondering if it will be windy tomorrow, or next week. If you are there in the windy season, it will be windy, all day, it's as simple as that. 
Most contests have a waiting period, or at least a time frame within the day where you check in to see if the conditions are up to par yet or not. But not here, not in Preá, Brazil. The rider meeting is at 8 a.m. First possible start at 10 a.m. and that is that. No delays, no waiting, no wondering, no wasted time. Heats all day, every day for four days and a result is in. Something that is unique and spectacular in its own regard. For the average rider or student in town this is something just as valuable; no off days. 
We arrived a few days prior to the event starting. I knew that once the event started the days would go by in a whirlwind and having a few days to enjoy the area before the event would be worthwhile. With a fun section of small waves downwind from the resort, escaping the crowd and slowly making your way downwind toward the town of Jeri is an easy way to explore and have some space to yourself. 
After a few mellow days of exploring the area with friends, the event was on and the schedule was set. Along with a few friends that came down for the event, I met up with fellow Cabrinha teammates Matt Elsasser and Keahi de Aboitiz who flew in for the event. Mosquito and Vanessa set us all up with an amazing house, front and center, within the Rancho do Peixe resort. About a 30-second walk to the beach and overlooking the event site from our front porch, living was easy for all of us for the week. True to my form and frankly surprising myself, I finished up in the exact position I have in each event before, getting knocked out by the unstoppable Airton in the quarter finals who went on to win the event and the overall tour for 2018. 
At 4 a.m. the next morning we were up and in a taxi headed back to different homes across the US and around the world. While we were without any plans of meeting up again we all knew it would not be long until we crossed paths, whether it be another event or just a trip in search of wind or surf. 
Meanwhile Lucas, a few hours to the south in Brazil, would continue his time in paradise for a few more weeks heading back to his home away-from-home of Taiba. For many kiters, Brazil is a destination that is as sure as any in the annual schedule. Whether it be to ride flatwater in a lagoon, compete on one of many world tours event, hit rails or even ride waves, it is one of the few locations in the world that is an icon in the kiteboarding world.
Originally published in the Summer 2019 Issue of Kitesurfing Magazine.