by Kitesurfing Magazine Test Editor, Shane Thompson, Photos by Dave Marshall
The hydrofoil revolution continues to evolve and expand with an explosion of new, cutting edge, wing shapes, deck models, and redesigned mast and fuselage systems for 2020. The foil's transformational reach is wide and spans across the multiple foiling sports of surfing, windsurfing, wakesurfing and SUP. Refinement of foil wing shapes and improvements in mast and fuselage connection technology has improved the smooth and stable lift and drive of the newest freeride foil designs. The newest surf-oriented foil designs are smooth cruising and stable designs that can keep hovering at ridiculously slow speeds. All the brands have developed modular frame platforms, so the same fuselage and multiple sized masts can be equipped with multiple wing sizes and shapes. The more experienced foilers are now putting multiple wings in their quiver which can alter lift, speed, and manoeuvrability to cater to different skill sets, riding conditions and kite foiling styles. The sheer number of foil models and their performance evolution reflect the expanding skills and evolving needs of the modern day foiler. Looking back, it's hard to believe that just four years ago, very few kiteboarder's had a foil board in their quiver. The first expansive freeride foil board test that Kitesurfing Magazine conducted was for the 2017 gear line. The first generation freeride foils had advantages for learning and developing the basic hovering skills over the speedy and more aggressive race style foils that started the kite foiling phenomenon. As foiling has exploded in surfing, stand-up paddle surfing and the windsurfing industries, these larger surface area, high lift foils, have proven to be ideal for learning and expanding kite foiling skills as well. Simply put, expanding carving and transition skills was made easier by the stable, slow cruising and easy carving surf wings whose origins were in the surf and SUP foiling designs. Able to lift and go with less power in your kite and their slow cruising performance makes learning to foil safer and less daunting and makes foiling accessible to even the less experienced kite flyers.
There's truly never been a better time to learn to kite foil or expand your foiling skills and hovering style with a new foil system or an additional wing for your current assembly. The options are many and each kite brand offers their distinct feel, performance traits and different systems of assembly, connection, materials and construction. All the brands have a series of different sized wings which offer varying levels of low end lift, carving ability and access to speed. Essentially there are three categories of foils that have different performance characteristics in lift, speed and manoeuvrability. First there are the high performance, fast driving, and more kite specific wings. These smaller surface area wings under 600 square centimetres are best suited to more experienced foil skills as they can reach much higher speeds and allow the rider to handle a bit more kite power and pull. If boosting with a foil is your game then these smaller foils are definitely the ticket. More speed means bigger boosting potential and also carries you at speeds for higher wind and long distance cruising applications. On the other end of the freeride foil spectrum are the large surface area surf foil wings. These have proven to be the best for ultra- light winds and also learning the basics of foiling. These large surf wings can cruise at very slow speeds of under 12 miles per hour and need very little kite power to get up and hovering. Learning on a shorter mast, 50-to-70 centimetres is ideal with a jumbo foil, and you can also take them behind a boat or into some surf if you have a deck that is suitable to mount a foil for SUP or prone surfing. Finally there is the mid-size surf wings that still offer early lift and slower cruising performance but have more speed and upper wind range than the bigger, more surf specific or lightwind category of jumbo wings. The mid-sized wings are still surf style oriented, with nice carving ability at slow to moderate speeds, but they can handle more power and speed than the slower cruising jumbo surf wings and are more sporty and nimble at faster paces. These wings are ideal for all around freeride kite experiences as they offer the most well rounded performance and mix of early lift, stability and carving ability with easier access to moderately fast cruising speeds. 
CATEGORY: Big Surf Wings; High-lift, lightwind masters, slower speed, ultra stable, learn to hover and carve, crossover performance for wake, SUP, wing and surf 
FOIL MODELS: Slingshot Infinity 76, North Sonar 1150, Cabrinha HI:RISE VARIAL Large , Duotone Spirit 1250, Slingshot Space Skate 65, Naish Jet Foil 1050, Progressive Tri Foil 
Learning to foil has never been easier with these larger crossover surf wings that grant early lift and extra stability for lightwind cruising and learning the basics of staying up on a foil and learning more technical transitions and carving. These are true crossover wings that can be used with or without a kite and have applications for any rider that wants to develop hovering skills in other foil disciplines of prone surfing, wakesurfing, SUP, wing-surfing or boardsailing. Behind a kite these big surf wings are in their element when it's very light, sub-12 mile-per-hour winds with 11-to-13 metre inflatable kites. As well, many riders with more advanced kite skills are using this size and style of foil for catching sessions with smaller kites in moderate to higher wind speeds. In order to keep these types of foils more controlled, it's important to keep the kite power and size lower than you would with a smaller, more speed oriented wing. Using a large foil like this with a kite that is 3-to-8 metres gives the rider enough power to get the foil up, but with the added manoeuvrability of the smaller kite and the ability to kill the
pull entirely and just ride the foil. The Progressive Tri Foil encapsulates the multi-sport nature of this foil category by its very name. It's designed for kite, wind and SUP. With a factory direct pricing model, the Tril Foil offers an ideal value to performance ratio, with all the required elements to get you hovering quickly, safely and easily. It's a great all around design for the emerging, multi-disciplined foiler. The Tri Foil has smooth acceleration and reaches its lower cruising top end speed quickly. Stable and easy to carve, the downturned back stabilizer wing shape is one that a lot of brand's second and third generation surf foil shapes have abandoned but the design is proven to give the foil nice turn initiation and a smooth carving feel through the back half of a carve. The largest wing set up of this group was the Cabrinha HI:RISE VARIAL Large which is suitable to learn to kite foil
with, but its true calling may be in the surf. This is the largest wing of the Cabrinha HI:RISE series with a front wing at 1489 square centimetres. Although it might be a bit of overkill if you only kite with this wing, for those interested in expanding the foil experience in the surf, the HI:RISE L has great lift, stable glide and smooth carving with nice reaction to pumping forward momentum into the foil. The new lightweight construction of the HI:RISE wings and the wide fuselage connection system steps up the Cabrinha game in the foil category in 2020. The HI:RISE series also has Medium and Small front wings available, which are better suited to higher winds and kite foiling at faster speeds. If you want to have a foil system for lightwind kiting and prone surfing, Cabrinha's new Autopilot direction surfboard is a perfect shape that can kite strapless in ultra light winds but is also perfect for
taking into the waves when the wind is down and there's some swell to ride. The Slingshot Infinity 76 is back for its second season and its smooth and easy carving drive has made it a popular model to learn on. This is really the multisport magician with performance that taps into any foiling discipline from kite to surf, wake, wind or wing. It's a foil that generates a lot of lift and will load up with front foot pressure when it reaches top speed. One of the smoothest carving of the group. The unique shaping of the front wing, and its smooth drive and stable lift have set the bar for the ultimate crossover performance for any discipline of foiling. The Slingshot Hoverglide aluminum frame is the longest standing modular set up out there, so even if you tried to get into foiling on a smaller freeride wing as far back as 2017, you can upgrade to any of the newest Slingshot wings and expand your skill set into the waves or beyond. Also in this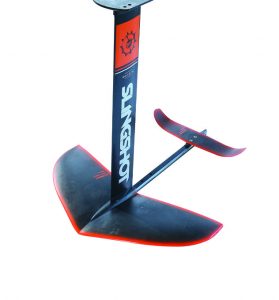 group from Slingshot, the Space Skate 65 wing which comes in the Slingshot's FKite package, and it's the one set up they recommend for learning to foil. The Space Skate 65 is true to its name and offers the most 'skatey' feel of this group, with faster reacting edge to edge turning. It was originally designed to provide quicker and more reactive turning on smaller waves, but this performance trait also translates to more intuitive turn initiation and tight radius arcs behind the kite. Tough choice between the two Slingshot foils in this group as both are excellent first time foil set ups. The Slingshot foils all have a similar feel across the line, with slightly more front foot pressure build which gives the amazing low end drive and allows the rider to really push hard into the carves and turns like a hard biting bottom turn on a surfboard. The new Jet Foil Series from Naish represents an evolution in foil wing shape and design replacing the popular Thrust Series from last season. Naish kept the smooth driving riding feel and easy cruising nature of the Thrust Series as well as the convenient one bolt foil attachment plate system called the Abracadabra. The new Naish series of foil wings, are called the Jet Foil and are again one of the smoothest riding foils of the
group. The Jet Foil 1050 is a great size to learn on and for a slower cruising and easy carving ride. Compared to similar sized foils, the Jet Foil has nice all-around performance that's smooth and reliable. Good comfort on a rail and nice upwind and downwind stability, the new Jet Foil wings are more streamlined and stable and carry their momentum nicely through the turns. The bottom mounted, angled downturned stabilizer wing from last season's Thrust series has been replaced with a top mounted wing with upturned winglets. This design of stabilizer wing is better suited for kite foiling as the older design with angled down wingtips had some durability issues, especially when kiting in shallower areas where the chances of a
brief bottom scrape are greater. Two of the newest foil set ups come from Duotone Kiteboarding and the new North brand with the North Sonar and the Duotone Spirit series of wings. Both of these multi wing modular foil systems emerge in this category with some stand out performance that rivals the established foil producing brands that have dominated this category. They both adopted intelligently engineered fuselage-to-mast connections systems that have improved the rigidity in their frames. The North Sonar 1150 has a distinct feel with its shorter fuselage and a wing combo that offers more back foot driving performance and tight carving turns. The shorter fuselage has its advantages in this sense, with the only drawback of being slightly more sensitive in the lift
or drop. The Duotone Spirit Surf 1250 is the largest wing of the series and is perfect for strapless light wind foiling. This was one of the smoothest carving foils in the group, with comfortable control at both ends of its speed range. The Duotone Spirit foils also come with a series of shims which change the angle of attack of the rear stabilizer wing. This gives this, large, multi use foil better kite foiling applications as you can reduce the lift and increase straight line speed with one reverse angle shim. Overall, combine one of these jumbo wings with the right kite set up and you can capitalize on winds from 7-to-10 miles per hour and if you keep the kite size down you can continue cruising right into 20 miles per hour and up. If you are learning to foil, or are a heavier weight rider, these wings are ideal. They will get you out on the water and hovering around in just a few sessions. 
MID-SIZE SURF WINGS: All Around Kite Foiling 
Slingshot Apollo 60, Duotone Spirit Carve 950, North Sonar 850, Eleveight HCS, Duotone Spirit Carve 950, F-One ICS 850, F-One Mirage 650, 
For any kiter that has learned the basics of kite foiling on the first or second generation freeride kite wings, these mid-size surf wings are ideal for advancing foiling skills in light to moderate winds. They have slightly less ultra-light wind performance in sub-10 mile per hour winds, but offer advantages in the upper wind range and have more manoeuvrability at faster paces. The Slinghshot Apollo is the perfect example of this next generation, mid-sized wing. A favourite in this test, the Apollo shows how the evolution of wing shape has driven all around freeride and surf style performance to new levels. For example the Apollo can cruise at very low speed and has low wind threshholds close to the larger surf wing, but it has a top end speed that exceeds some of the original kite specific freeride wings that many learned on in the early generations. Like many of the Slingshot wings it has more front foot pressure at moderate speeds, but its front lift does even out as it reaches its very top end speed and still lets you stay in control and check the power and
speed of the kite much better than the larger Slingshot surf wings of the first group. Similar performance from the North Sonar 850 and Duotone Spirit Carve 950 also support this performance trend. The Duotone Spirit Carve 950 was smooth riding and very stable with quick, slippery performance upwind and down. Having a slightly smaller wing like this lets the rider come into the transitions with more speed and angled drive and also lets the rider carve harder into the turn. The hardest carving foil of the group goes to the North Sonar 850. The Sonar Series has the shortest fuselage of the group and rides with more even or back foot pressure focused lift. This could be helpful for kiteboarders that are just getting into foiling as the more back foot pressure ride is more akin to standard kiteboarding on surface riding boards. Also tagging into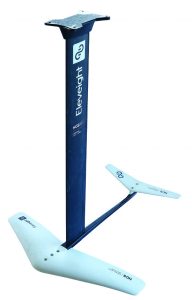 this subgroup the Eleveight HCS Performance foil. This foil cruises at slower speed and was very easy to rail from edge to edge. That's one of the nice things about having a smaller, mid-sized wing like this. It really lets you carve from edge to edge at higher speeds but if you want to angle it out and push it to higher speed limits you don't have to fight back the extra lift and drive of a larger winged foil. The Eleveight HCS Performance foil is a perfect example of this as it offers easy and stable lift at the low end but with turns and carve from edge to edge with amazing ease and fluidity. Eleveight took their time to develop a foil system that would work for everyone from beginner to advanced, and they dialed it with this system. The F-One 850 also offers a similar ride to the Duotone Spirit Carve, with some
of the smoothest acceleration and maybe even more stability at slower speeds than the Duotone or the North Sonar or Eleveight HCS. The F-One aluminum framed system is also one of the lightest aluminum frame set ups and has the same modular capability as all of these set ups. F-One has their foil program dialed and the 850 is a great choice for learning to kite foil on a modular system you can never outgrow. F-One also sent us the smallest performance wing of
the group in the 650 Mirage. This wing is smooth and fast, but doesn't have the light wind lift offered by the other models in this group. Having this size wing is ideal for the rider that wants to push speed limits up and also get into boosting with their foil. Smaller foil
front wings are better for jumping because when you come down for a landing there's less surface area to enter the water, so you can come down with more speed and still stick the landing without getting bucked off. Overall, every foil system in this group shows the evolution of this quickly evolving, kite discipline. The intelligent engineering and fine tuned designs are driving performance to new levels. If you're a kiteboarder that hasn't learned to foil yet, the only question should be where you want to start and how far you want to go. The equipment is here to take you to the next level. 
Read all the individual Foil Reviews.